Wireless Microphones
Shure Handheld ULXS4 Wireless Microphone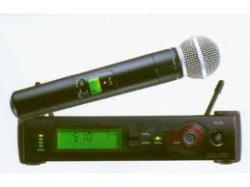 Description:
The Shure ULX
Features:
Compatible Systems Per Band Up to 20*
Compatible Systems Using Multiple Bands 62*
Selectable Frequencies 1440
Auto-Setup Scan / Channel Scan
Detachable Antenna: Yes
The SLX series transmitters and receivers feature an infrared sync feature which allows settings such as frequency and channel to be transfered remotely.
UHF Diversity
The SLX4 receiver features UHF diversity reception. Dual receivers compete for the strongest possible reception, reducing noise and dropout due to RF interference.
Mic & Line Level Output
The SLX4 receiver features an XLR mic level and 1/4" phone line level output.
Options: