Audience Response Systems
Audience Response e-poling voting Turning Technologies System - Also for sale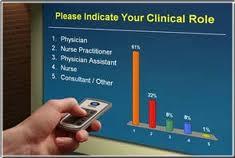 Description:
Turning technologies Audience response system sometimes referred as e-poling e-voting system is a powerful tool for instant responses form the audience. We specialize in helping design the slides with questions and multiple choice answers or simple yes no answers. We can help you with any size of audience in tens, hundreds or thousand. Our system works with Microsoft power point.
The complete system consists of transmitters or response cards, a receiver connected to a computer, a projector and screen. We can also replace screen with a monitor if the number of audience is small.
Please be reminded that we can generate many type of simple and complex reports to analyze the data later. You may need assistance in generating these reports.
We may also project the images on multiple screens.
Features:
Driver is preloaded on the operating system. Simply plug the receiver into the USB port and the device will immediately be recognized.
200 ft (400 ft coverage).
Recommended for up to 1000 ResponseCards per (1) RF Receiver.
Recommended for up to 1000 ResponseCards per (1) RF Receiver.
Can be increased with multiple RF Receivers.
Another special receiver(LR Receiver) can increase range to 400 ft X 2 total 800