Video Switchers, Scalers and Converters
Switcher Scaler - 11 input 2 HDMI output video scaler switcher Atlona AT-LINE-PRO5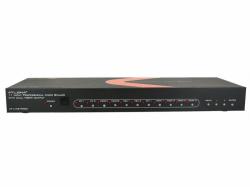 Description:
The Atlona AT-LINE-PRO5 is a professional quality 11-input
video scaler/processor/presentation switcher that allows
4 x HDMI or DVI, 1 x DVI, 3 x VGA, 2 x Component, 2 x
Composite video inputs to be scaled to a dual HDMI output
(outputs are mirrored). The on-screen display gives you
the ability to change video options, scaling options, output
resolutions and much more. With additional functions such as
RS-232 and IR the AT-LINE-PRO5 is easier than ever to control
or integrate with preexisting systems.
Features:
4 HDMI , 2 VGA, 2 Component Video, 2 Composite Video, and 1 DVI input
2 HDMI outputs and 2 Digital Audio outputs
RS-232, IR Remote Control, and front panel control available
Weight: 4.6lbs or 2.1kg