Video Recorders, Players and Editors
Personal Video Recorder Gefen tv HD PVR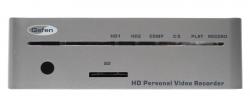 Description:
Instantly Records High-Definition Video
The High-Definition Personal Video Recorder (HD-PVR) allows consumers to implement the functions of a traditional video tape recorder or DVD recorder, but in an exciting new way using state-of-the-art removable SD flash memory devices and/or a built-in 80GB hard disk drive. Now, consumers can enjoy instant recording and versatile portability and playback of digital video, music, and digital pictures, all within one compact tabletop unit.
No More Missed Action!
You won't miss the action any more with the HD-PVR. With a touch of the IR Remote, you'll be able to instantly begin recording programs or video segments when inspiration strikes you. With the capacity to review, fast forward, fast backwards, pause, and erase videos, you'll have unprecedented flexibility in capturing what you want and keeping only what you need.
Your Personal Multimedia Playback Center
The Gefen HD-PVR is not just for recording video. You can scan storage devices for the contents that you want, and play music, look at digital picture albums, or play back previously recorded video clips.
Features:
Instant recording to SD flash media or internal HDD
4 selectable quality settings for storage compression
Pause, mute, fast-forward and rewind playback controls
User-friendly graphic interface for setting controls
International language support
2-HDMI inputs
1- component in
1- S-Video in
1-HDMI out
IR Extension
RS-232 control port
Internal hard drive records up to 50 hours
External SD Card
Options: