Video Recorders, Players and Editors
Panasonic AG-DV2000 DV & Mini DV Recorder player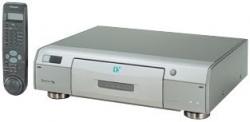 Description:
The AG-DV2000 is a DV-format VCR that offers easy, single-VCR editing with superior Digital picture quality. Utilizing a professional transport mechanism based on DVCPRO technology, the deck assures quick response time and outstanding reliability.
The AG-DV2000 offers videographers all of the convenience and functionality of a traditional editing deck. With features including video and/or audio insert editing, auto assemble editing from a 40-event list and a detachable edit controller, this deck is the natural next step to a DV world.
The AG-DV2000 is a full-size editing deck. It has a fold-out edit control panel on the front that also detaches and can be used remotely. With the coiled cable attached, the edit controller provides full control of the deck; when you detach the cable, however, limited infrared control becomes available. The edit control panel also has a jog/shuttle wheel for tape cueing. The jog control is very precise, allowing video editors to easily advance the tape one field at a time.
Command and Control
All of the controls were easy to find and operate. There are front-mounted inputs that include composite video, S-video, stereo audio, IEEE 1394 and a Panasonic 5-pin edit control port. On the back of the deck is another set of composite video, S-video and stereo audio inputs and two sets of S-video, composite video, and stereo audio outputs.
Thanks to its unique cassette drawer, the AG-DV2000 will except full-size DV tapes as well as the popular Mini DV tapes.
Although the deck has a five-pin Panasonic edit control protocol, all that is needed for machine control with a DV camcorder is the IEEE 1394 port. All you have to do is attach an IEEE 1394 cable and the camcorder is ready for editing, with audio, video and machine control. We tried controlling camcorders via both IEEE 1394 and Panasonic 5-pin and both worked fine.
Features:
Panasonic AG-DV2000 DV and Mini DV editing VCR
Format: DV and Mini DV
Video inputs: 2 S-video, 2 composite video, 1 IEEE 1394
Video outputs: 2 S-video, 2 composite video, 1 IEEE 1394
Audio inputs: 2 sets of stereo audio
Audio outputs: 2 sets of stereo audio
Edit control protocol: Panasonic 5-pin (Control-M) and IEEE 1394 machine control
Other features: Detachable edit controller (cable or IR link), insert editing, DV time code.
Dimensions: 17.56 (width) by 4.88 (height) by 14.75 (depth)
Weight: 14.6 pounds