Document Cameras/Visualizers
HD 1080P 30 fps Document Camera AVerMedia AVerVision F15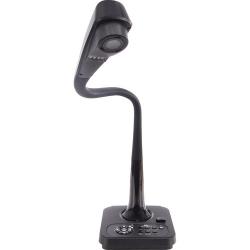 Description:
The AVerVision F15 Portable Semi-FlexArm Document Camera (NTSC) from Aver Information Inc. is capable of delivering superior image quality at 30 fps (1080p), and offers a wide shooting area of 17.2 x 12.8" and 16x digital zoom. Additional features of this camera include Picture-In-Picture and Split Screen, and it is compatible with interactive whiteboards.
This document camera offers sharp, vivid imaging achieved through its 5 Mp sensor and full HD 1080p. You can capture high resolution images of classroom moments and save them to the internal / external memory or use the A3 shooting area to effortlessly show textbook content and large visual aids in their entirety.
The full potential of this document camera can be learned through the handy presentation tools and clever teaching aids of the A+ Suite document camera software. The AVerVision Flash Plug-In helps users to achieve better integration of classroom technology by allowing them to view live images from a document camera via the IWB software. By utilizing this software, teachers and students can manipulate and annotate over live images streamed from a camera using the class s existing interactive whiteboard. With this plug-in, users have direct access to important visualizer controls, such as zoom, focus, and various image adjustments.
The A+ Plug-In for PowerPoint allows users to view and control live visualizer images as well as to access helpful presentation / teaching tools directly via Microsoft PowerPoint on a PC or Mac. Via the floating toolbox, you can access your visualizer, annotation tools, teaching tools, features like TTS (Text-To-Speech), screen capture, and screen recording while in Slide Show mode. Presentation tools like Spotlight and Visor or OCR (Optical Character Recognition) function can be accessed directly via the menu bar.
The AVerVision 4 standalone visualizer software for PC and Mac gives users access to many handy features like video recording, TTS, and annotation. Additionally, it features automatic image correction, side-by-side comparison, a personalized media library, and one-click upload to social media / file sharing sites. Moreover, the simplified design of this user interface allows users of all ages to master the software in minutes.
Features:
Wide Viewing Area: The F15 Document Camera features a large viewing area of 17.2 x 12.8". With this document camera, you can view and display the map of USA right from the coast of California to the coast of the Carolinas.
Crisp Images:This 5 Mp Document Camera is built to show crisp text, bright images, and vibrant colors. More megapixels mean better resolution (1080p) and detail for showcasing your classroom's best.
Shed Some Light:The F15 Document Camera is connected to a projector and has built-in LED lights in the camera head to illuminate and display any object under the camera.
Make a Point:By connecting the F15 Document Camera to a computer, you can tap into AVer's Academy Suite through which you can easily add annotations, highlights, arrows, and captions.
AVer Academy Suite:Interactive White Board and AVerVision Flash Plug-In With this plug-in, the F15 Document Camera can directly integrate with any IWB (Interactive White Board) software to easily add pictures and live video. You can even use the IWB (Interactive Whiteboard) or tablet software to control the document camera. Additionally, you can access the focus, zoom, image freeze, rotate, visualizer mode, color, white balance, and brightness controls of your document camera directly through the Flash Plug-In.
MS PowerPoint Plug-In
Handy Floating Toolbox: The handy floating toolbox, live visualizer images, annotation tools, teaching tools, TTS (Text-To-Speech), screen capture, and screen recorder of the A+ Plug-In for PowerPoint are at your disposal during any PowerPoint slide.
Visualizer Integration and Visualizer Image Capture: With the Visualizer Integration function, you can insert a live streaming image from your document camera into any PowerPoint slide show. The Visualizer Image Capture allows you to capture normal and high resolution images from your camera when working in PowerPoint. Both these functions allow you to work on PowerPoint while still maintaining control over the visualizers main functions, like zoom, focus, freeze, and rotate, and image adjustment tools like brightness, contrast, color, white balance, and mode selection.
Powerful OCR: Using the OCR (Optical Character Recognition) function, you can transform the text from images captured with this visualizer, photos found online, or any image that can be edited, all in a few clicks (Windows only).
TTS (Text-To-Speech): This function gives you an interesting way to bring dry text to life and enhance any presentation or English language lesson, whether the text has been taken from the visualizer using OCR or if it is something you have typed into a PowerPoint presentation. This function supports only English.
Fast Annotating: You can enrich your presentations by making clear, instructive annotations over PowerPoint presentation slides and / or live visualizer images. This allows you to take down notes, highlight text, draw lines, and add shapes to boost the value of any presentation slide.
Helpful Teaching Tools: With the software 360 protractor and ruler tools to measure real objects, your mathematics lessons can be more interactive.
Presentation Tools: You can cover selected portions of the screen with a semi-transparent or opaque shield, using the Spotlight and Visor features, which are suitable for both testing and test review scenarios.
Live Video and Audio Recording: This allows you to use the recorder function to capture live video and audio of whatever is shown onscreen, plus have the option to record the entire screen or just a selected portion of it.
Image Capturing: This offers you with the versatility to capture a still image of the entire screen, an open window, or just a particular region of the screen. 1
Sphere Lesson Presentation Software
Sphere software offers split screen and share ability. It allows you to project a live F15 Document Camera image, a live webcam image, and saved images / videos side by side. You can show exam questions next to sample answers, explain the difference between an iceberg and a glacier side by side, and more. While doing this, you can annotate, highlight, and record the presentation The Sphere software's share ability allows you to upload your data onto many social media sites to share with colleagues, and students.
AVerVision 4:Easy-To-Use Visualizer Controls: The AVerVision 4 software allows access to the main functions of the visualizer, and control over image adjustment settings, to make operating your AVerVision document camera via a computer easy. Press the auto adjust button in the top-right corner to instantly correct white balance, contrast, exposure, and even realign the image to a perfect 90 if it is less than 15 askew.
Media Library and Side-By-Side Image Comparison: Create your own media library full of recorded videos and captured images, and conduct side-by-side comparisons of the live images streaming from the visualizer and up to 5 saved images, while still having easy access to the cameras controls and annotation tools.
One-Click Media Upload: Make the excitement of class accessible from home by quickly uploading captured images and video recordings to social media and file sharing sites.
Handy Annotation Tool: Like the MS PowerPoint Plug-In AVerVision 4, allows you to enrich your presentations by making clear, informative annotations over live visualizer images.
Live Video and Audio Recording: Turn live lessons, visits from guest lecturers, or exemplary student performances into reference materials you can use again. You can also use the video and audio recording function to prepare invigorating material before a class begins.