Video Projectors Large Venue
NEC NP-PA 622U 1920 X 1200 HD 6200 lumen 6000 contrast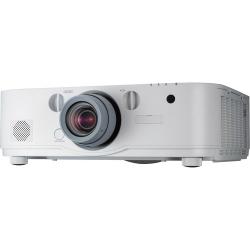 Description:
The NP-PA622U Advanced Professional Installation LCD Projector from NEC features a WUXGA (1920 x 1200) resolution. For connectivity, it affords dual HDMI inputs with HDCP support, a USB Viewer, a VGA input, and more. It also supports built-in HDBaseT support. The projector provides up to 6200 lumens of brightness and a contrast ratio of 6000:1. The 4000 hour lamp life in Eco Mode and filter free design ensure a lower overall cost of ownership as well.
The NP-PA622U provides automatic keystone correction technology, which instantly projects a square image even when the projector is set up at a steep offset angle to the screen. It also features an integrated active lens cover, which mutes audio and video while lowering the lamp power to conserve energy. Other features include a 10W speaker and Eco Mode technology, which helps extend lamp life and lowers power consumption with constant brightness and prevents the usual drop in brightness over time while maximizing lamp life. Plus, the projector is compatible with NTSC, PAL, and SECAM video systems.
This projector does not ship with a lens.
3D Reform
It allows you to square the image by adjusting horizontally, vertically or diagonally when the projector cannot be placed parallel or perpendicular to the screen
Cornerstone
Enhanced keystone correction allows for horizontal, vertical and diagonal image correction for aligned images even when the projector is set up at an angle to the screen
Variable Audio-Out
This input enables the remote control to be used to adjust volume of self-powered external speakers that are connected to the projector. In stand-by mode, the audio-out stays active, allowing the last input used to pass to the self-powered external speakers
Geometric Correction
Projecting an image isn't confined to a standard flat screen or wall with the NEC PA Series. Geometric correction allows these models to project an image on spheres, cylinders, corner angles and many more non-standard surfaces
Lens
This projector does not come with a lens. It allows for a quick and easy lens exchange. Optional six bayonet-style lenses enable the user to determine the appropriate lens to cover projection distances between 2.6 and 179.8 feet
Edge Blending
This function seamlessly blends multiple projected images to display a single high-resolution image
TileMatrix Technologies
Multi-display capabilities and TileMatrix technologies are integrated into the projector. This processing is all done internally and therefore only an external distribution amplifier is required to produce a beautiful 4K resolution image. Multi-display support with Picture-by-Picture/Picture-out-Picture
Stacking Correction
Built-in stacking correction capabilities (up to four projectors) allows the projectors to boost an image's brightness up to 24,800 lumens, which is ideal for larger-sized screens and environments with ambient light. This feature also prevents the complete loss of an image, which can happen when using only one projector
Input Panel Cover
This optional accessory creates a clean look for your installation, while hiding signal cables and the power cord
Virtual Remote
Used via a network connection (wired/wireless), so you can control the projector directly from a computer without the need for additional control cables
Built-In HDBaseT Support
Simplify your installations with HDBaseT. Optimized for video applications and supporting uncompressed full HD digital video, audio, Ethernet, power and various control signals. With only a single cable (up to 100 m) to run, infrastructure and labor costs are reduced, installations are significantly easier, and there is no cable clutter to manage. What's more, control signals are contained in the same cable. Project uncompressed FHD video with integrated HDBaseT
Dual HDMI Inputs
Among the projector's wide selection of inputs are dual HDMI with HDCP for connecting to high-definition sources such as Blu-ray players, cable boxes, satellite receivers and personal computers. With multiple HDMI connections, loop out up to four projectors
4000-Hour Filter Life
NEC is committed to designing its products to provide long lifecycles. This commitment even extends to components within its products, including the filter. This virtually maintenance-free filter reduces the frequency at which cleaning is required, thereby decreasing your total cost of ownership. Filter replacement is only required at the time the lamp is replaced
Built-in HTTP Page
It is for control and monitoring over a LAN network. Email notification of error messages or lamp end-of-life can be sent to remote locations
Wide Selection of Inputs
Dual computer inputs ensure quick switching between presentations
? Four audio inputs (two mini stereo [Comp1 & Comp2], R/L [RCA - shared by video sources] and HDMI) make it easy to add sound to your presentations
Portrait Mode
Ability to install a projector in its side to create a 10:16 portrait image
ECO Mode
Extends lamp life, lowers audible noise and reduces total cost of ownership
Tilt-Free Installation
Tilt-free installation capabilities makes this projector ideal for almost any install environment, including portrait orientation
Remote Control
Easy control from remote allows you to adjust lamp mode, aspect ratio, volume and image all with the touch of a button
Integrated Software Applications
Integrated software applications such as DisplayNote, Crestron Roomview, AMX Beacon and PJ Link allow for complete interactivity and control
DisplayPort
This input provides the projector with expanded connectivity with advanced technology
Wall Color Correction Presets
These provide for adaptive color tone correction to display properly on non-white surfaces
Advanced AccuBlend
Advanced AccuBlend ensures detailed images when non-native resolution sources are connected to the projector
AutoSense
It automatically syncs with any computer signal and features one-touch image optimization
64-Step Image Magnification
64-step image magnification with location control
Source Keys
Source keys for source selection
Remote Diagnostics
They enable the user to monitor and make adjustments to the projector remotely
Additional Features and Specs
Optical Device: Optical isolation by Dichroic mirror, combining by Dichroic prism
Color Reproducibility: 10-bit color processing
Regulations: USA UL 1950 FCC Class B, Canada CSA 950 (C-UL), NOM
USB Viewer
Auto power on
Closed captioning
Carbon savings meter
Sleep timer
Quick power-off
Shift: Mechanical -0.1 to +0.5 vertical, +/-0.3 horizontal
Features:
Display System 3-Chip 0.76" / 19.30 mm Micro Lens Array (MLA) LCD
Native Resolution WUXGA - 1920 x 1200
Supported Resolutions VGA - 640 x 480
SVGA - 800 x 600
XGA - 1024 x 768
SXGA+ - 1400 x 1050
SXGA - 1280 x 1024
UXGA - 1600 x 1200
Format NTSC 4.43
PAL 60, M, N
SECAM
HDTV Compatibility 1080p
1080i
720p
576p
576i
480p
480i
Pixels 6,912,000
Brightness 6200 Lumens
Projection Angle 10.3 - 10.8 (Tele)
13.7 - 14.5 (Wide)
Aspect Ratio Native: 16:10
Contrast Ratio 6000:1
3D Yes
Color Range 1.07 Billion
Scan Horizontal: 15 - 108 kHz
Vertical: 48 - 120 Hz
Lens
Lens Shift Vertical: 60%
Horizontal:30%
Features
Keystone Correction Yes, Vertical: 30
Yes, Horizontal: 40
Picture-in-Picture None
Ceiling Mountable Yes
Rear Screen Projection Yes
Projection Tilt Option None
Built-in Speaker Yes, 10W (Mono)
Input/Output Connectors
Inputs/Outputs 1x 15-pin VGA Video (Input)
1x 5-BNC Video (Input)
2x HDMI Audio/Video (Input)
1x DisplayPort Video (Input)
1x BNC Component Video (Input)
1x BNC Composite Video (Input)
2x 1/8" (3.5 mm) Mini Audio (Input)
1x Ethernet LAN
1x HDMI Audio/Video (Output)
1x USB Type-A Female
1x 1/8" (3.5 mm) Mini Audio (Output)
1x VESA 3D Sync Video (Input)
1x RS-232C Control
1x IR Remote
Wireless LAN None
Sync Compatibility Composite Sync
Separate Sync
Sync on Green
General
Watts Normal Mode: 350W
Eco Mode: 264W
Life Normal Mode: 3000 Hours
Eco Mode: 4000 Hours
Fan Noise Normal Mode: 39 dB
Eco Mode: 33 dB
Remote Control Yes
Security Password Protection
Power Requirements 100-240 VAC, 50/60 Hz
Input Current 5.5 A / 2.2 A
Power Consumption Normal Mode: 460W
Eco Mode: 362W
Standby Mode: 7.4W
Standby Mode (Network off): .11W
Altitude 0 - 8800' (0 - 2682 m)
Temperature Operating
41 to 104F (5 to 40C)
Humidity: 20 - 80%
Storage
-14 to 122F (-25 to 50C)
Humidity: 20 - 80%
Dimensions (WxHxD) 19.7 x 6.5 x 14.4" / 500.4 x 165.1 x 365.8 mm
Weight 18.5 lb / 8.39 kg
Options:
NEC NP13ZL Standard
NEC NP12ZL Short Throw Lens
NEC NP14ZL Long throw Zoom Lens