Video Camera Production Accessories
Camera Mount Redrock Ultra Cage field Cinema Mount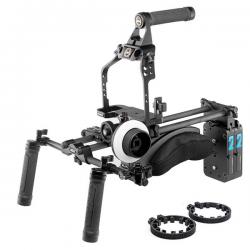 Description:
With 18" carbon fiber rods and microShoulderPad, the DSLR camera can be easily carried over your shoulders. Using a handlebar rod clamp, you can attach the 2 hand grips to the standard 15 mm rods for perfect support and maneuvering.
The microBalance Plus provides a vertical accessory plate for mounting microBalance counterbalance weights or other accessories to standard 15 mm rods. It consists of a rod clamp, a left-right adjustment block, and a cheese plate.
With the rod-clamp having thumb screws, you can securely attach the microBalance Plus unit to 15 mm standard rods of camera support systems. Using the left-right adjustment block, you can optimally adjust the position of the counterweight to balance your camera system. The cheese plate offers mounting holes for Anton Bauer or Sony v-mount battery plates. Two counterbalance weights are included to balance the rig on your shoulder.
The microHandle Plus is an upgraded version of the microHandle and is used as a top or side handle for a camera rig. It comes with an integrated hot shoe clamp for directly connecting the handle to the top shoe mount on your DSLR camera. Industry-standard rails can be attached to the handle via mounting holes for mounting further camera accessories.
Features:
Complete rig to support HDSLR cameras with external monitor Compatible with DSLR cameras such as Nikon D90, D300s and Canon 7D, 1D Mark IV, and 5D MKII Ideal to be used with DSLR cameras offering an output to an external monitor
microFollowFocus Black
microFollowFocus Black Allows precise focusing of still and cinema lenses Includes a backlash dial that enhances the precision of focusing Integrated hard stops with easy begin/end setups enable fast repeatable racking between two focus points and thus allows usage of lenses without hard stops A moveable reinforced focus indicator allows you to pull focus from any place on the camera while maintaining view of focus indicator and focus wheel 3D marking disk - allows you to view your focus marks from many angles Flippable gearbox - adjusts the drive gear front and rear and is compatible with lenses of any size Industry-standard, all-metal machined accessory port - you can add focus whip or speed crank to the focusing system Kung Fu rubberized handgrip - prevents hand-slips and ensures stable shooting Aluminum construction Made in America With 18" carbon fiber rods and microShoulderPad, the DSLR camera can be easily carried over your shoulders
Handlebar Rod Clamp You can attach 4" or 8" rods to the standard 15 mm rods and create handgrip support for shouldermount rigs Comes with 2 hand grips
microBalance Plus Provides a vertical accessory plate for mounting microBalance counterbalance weights or other accessories to standard 15 mm rods Consists of rod clamp, left-right adjustment block and cheese plate Rod-clamp - allows you to securely attach the microBalance Plus unit to 15 mm standard rods of a camera support system Left-right adjustment block - adjusts the position of the counterweight to optimally balance your camera system Cheese plate with mounting holes for brick-style batteries from Anton Bauer and Sony v-mount
microHandle Plus Upgraded version for microHandle and is used as a top or side handle for a camera rig Integrated hot shoe clamp for directly connecting the handle to the top shoe mount on your DSLR camera 1/4" 20 female tap allows a top-mounted monitor to be attached to the handle for easy low-mode shooting Mounting holes for attaching the handle to industry-standard rails, which can be used for mounting camera accessories
DSLR Baseplate Enables you to mount your DSLR camera on rails You can attach a monitor to the rig (with a microMount) Being able to view high-definition images on an external monitor, a camera assistant can precisely pull the focus Rig offers easy access to video setup tutorials