Video Camera Production Accessories
Camera Shoulder Pad Mount Bracket for hands free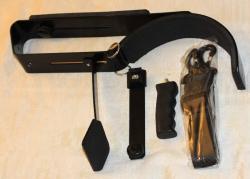 Description:
Shoulder support for smaller modern handheld camcorders. With light bracket
Note for women
The chest piece is a little shorter and may get into the breast area. We asked couple of women to try to put the shoulder pad on, all of them were able to adjust it. However, none of them had done any videotaping, therefore we decided to put this warning out and will appreciate feedback on the issue
Features:
it is made of aluminum finished with black powder coating. Therefore, it is bendable and can be easily adjusted;
? the handle in front helps control the direction of the camcorder;
?it is lightweight and sturdy;
? easily disassembles and does not take much space. You will receive the support in the box that is about ? of the boxes of other models I sell;
?the strap that goes around your body is adjustable and can be easily disconnected;
?it comes with a bracket for a mini light. Personally, I do not find this useful, and took the thing off immediately but did not throw it away because it may be good for an external microphone. Having an extra piece does not hurt even if it does not help.