Solid State
Compact Flash 8 gig SanDisk Ultra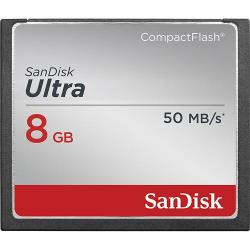 Description:
Save pictures and videos captured on a compatible device with this SanDisk Ultra SDCFHS-008G-A46 CF memory card that features 8GB of storage space and offers speeds of up to 50MB/sec., ensuring fast, efficient data transfer.
Features:
Compatible with select CF-enabled devices
Including select entry and midrange DSLR cameras for use with your existing device.
8GB storage capacity
Allows you to capture and store plenty of pictures and videos.
Fast transfer speeds up to 50MB/sec.
Save you time when moving files to your computer.