Video Camera Production Accessories
Monitors 4" Quad B/W Sony PVM-411 for production with BNC Inputs Outputs also for sale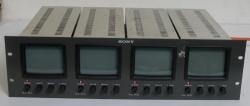 Description:
This is a great quad monitor for 4 cameras or video inputs
Each b&w screen offers individual power, contrast, brightness and hold controls
Unit can be rack mounted for commercial install ( has some minor rack rash which does not affect the operation)
Each unit has focus, vsize and vlin adjustments
Inputs are BNC with 75ohm control and ext sync
THIS VERY COMPACT, AND RUGGED, QUAD B/W VIDEO MONITOR OFFERS MANY UNIQUE FEATURES AND HAS SEVERAL APPLICATIONS IN PROFESSIONAL VIDEO SUCH AS:
REMOTE TRUCKS OR "FLIGHT-PACK", MULTI-CAMERA PRODUCTION PRE-VIEW MONITORS FOR VIDEO SHOOTS WHERE THE HIGH RESOLUTION B/W CRT'S PROVIDE THE ABILITY TO ASSESS CRITICAL CAMERA FOCUS AND FRAMING.
LIVE AND POST-PRODUCTION, MULTI-SOURCE VCR AND GRAPHICS MONITORING WHERE IT IS NECESSARY TO CUE SOURCES TO THE TIME-CODE WINDOW CHARACTERS (THE SMALLEST NUMBERS, LETTERS AND CHARACTERS CAN BE CLEARLY READ ON THESE MONITORS
MULTI-SATELLITE SIGNAL MONITORING REQUIRING A HIGH NUMBER OF MONITORS IN A LIMITED AMOUNT OF RACK SPACE, EXTREMELY WIDE VIEWING ANGLES AND THE RESOLUTION TO READ TINY SOURCE IDENTIFICATION CHARACTERS.
THESE MONITORS ARE IDEAL FOR USE IN ANY VIDEO ENVIRONMENT SUCH AS POST PRODUCTION, LINEAR AND NON LINEAR EDITING ( NLE) SUITES, DUPLICATION LABS, BROADCAST TELEVISION FACILITIES, CABLE TV, REMOTE VANS ETC.
THE BNC LOOPING VIDEO INPUTS ALLOW THESE MONITORS TO DIRECTLY INTERFACE WITH PROFESSIONAL VIDEO EQUIPMENT SUCH AS S-VHS, BETACAM, DVC-PRO, DVCAM VCR DECKS. AND ASSOCIATED GEAR.
Features:
Features: Specially designed as a camera monitor for a surveillance system or a video studio with multiple camera installation Accepts external sync BNC connectors for cable connections Composite: 1.0Vp-p, sync negative, 751/2 and high impedance switchable Power requirements: AC-120V, 50/60Hz Power consumption: 56W Picture tube: 10.3cm (4"), visible picture size 9.4cm (3.7") measured diagonally, 501/4 deflection Horizontal Resolution: 50 TV lines at center Video Signals: EIA 525 lines, 60 fields Non-composite: 0.7Vp-p Video OUT (BNC): Loop-through Sync IN (BNC): 4.0Vp-p, negative, 751/2 switchable Sync OUT (BNC): Loop-through