Video Teleconferencing
Polycom HDX 9002 High Definition Telepresence Video Conference System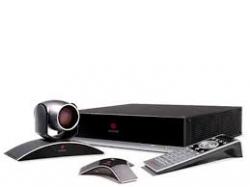 Description:
High-Performance Architectures Radically Boost Visual Communication
Polycom HDX 9000 Series systems powerfully and seamlessly integrate with rich-media tools to enhance any presentation or meeting environment. Through integration of Polycom HDX 9000 Series system powerful set of Application Programming Interfaces (APIs) and abundant video and audio connectors, customers can create and customize conferencing solutions for simple to advanced applications, including auditoriums utilizing multiple cameras, projectors and displays; boardrooms with touch-panel displays, recessed lighting and individual participant monitors; and training facilities with high-definition lecture recording systems and visualizers. Polycom HDX 9000 Series systems also offer greater conferencing flexibly with the optional embedded multipoint feature, which allows multiple sites to be brought online quickly and easily.
High-Quality, Natural Interaction
Life-like conference audio for Polycom HDX 9000 Series systems environments is driven by Polycom Siren 22 and Polycom StereoSurround technologies, enabling attendees to hear remote participants' voices in stereo through left and right dual-mode speakers within a single microphone array. Polycom HDX 9000 Series systems are powerful enough to discern the subtlest of sounds and transmit them to others in the conference, enabling clearer and less ambiguous communications and more efficient meetings.
In today's fast-paced world, it is more critical than ever for organizations to adapt quickly and communicate seamlessly both internally and externally. Whether negotiating complex business agreements or helping employee tiger teams to speed their decision making, what frequently separates winning organizations from the pack is their ability to deliver tools that maximize productivity.
With Polycom HDX solutions, connecting and collaborating visually with anyone across your organization is as easy as making a phone call. The Polycom HDX Series connects your people and enhances their collaboration. Whether you are holding a simple interview across campus or staging a large project team meeting with members dispersed across the globe, there are HDX solutions that fit the bill.
Polycom HDX Solutions deliver:
Flexible, cost-effective, high-definition communications from low bandwidths using standards-based H.264 High Profile technology
Polycom UltimateHD technology: HD voice, HD video, and HD content for exceptional performance
Natural whiteboarding collaboration with Polycom VisualBoard Technology that is embedded into many HDX systems
Breakthrough voice locating technology with the optional EagleEye Director allows users to have a truly in-person experience in any size conference room
Increased usability and simplicity, with the optional Polycom Touch Control giving users total control at their fingertips
Patent-pending Polycom SmartPairing? technology makes it simple to use your own tablet to start and manage video calls
Polycom?s Packaged Solutions offer a single part number for the entire package for monitors, audio equipment and video system
Features:
UltimateHD Features
22kHz StereoSurround
HD Content Sharing
720p30 from 512 kbps
720p60 from 832 kbps
1080p30 from 1024 kbps
Connectivity
H.323/SIP Max Line Rate 6 Mps
H.320 Option
Microsoft Lync Support
Analog Phone Input
TIP Support
Inputs/ Outputs
Max Video Outputs 3
Max Video Inputs 4
Aux Audio Inputs PC / AUX
PTZ Cameras Supported 2
Microphones Supported 4
SoundStructure Supported
General Info
EagleEye Director Supported
Touch Control Supported
APIs Supported
Rackmount
UltimateHD quality for up to 50% less bandwidth with H.264 High Profile support
HD video up to 1080p, Polycom HD Voice technology, and HD content sharing
Quality protected by Polycom Lost Packet Recovery QoS technology, which helps ensure great quality even amid network issues
StereoSurround audio in 22 kHz for superior clarity, with stereo separation that ensures you can hear everyone distinctly, even when multiple
parties speak at the same time
Industry-standard protocols that connect to millions of standards-based video systems in use today
Flexible input/output options that ensure your cameras and peripherals connect without a hitch
1.Video input 1: HDCI (Composite, S-Video, YPbPr, DVI)
2.Video input 2: HDCI (Composite, S-Video, YPbPr, DVI)
3.Video input 3: 3-BNC (9004) (Composite, S-Video, YPbPr) | 2-BNC (9001& 90002) (Composite, S-Video)
4.Video input 4: DVI-I (VGA, DVI)
5.Video input 5: (9004) DVI-I (VGA, DVI)
6.Video output 1: 2-BNC (S-Video, Composite) DVI-I (VGA, DVI, YPbPr)
7.Video output 2: 2-BNC (S-Video, Composite) DVI-I (VGA, DVI, YPbPr)
8.Video output 3: 2-BNC (S-Video, Composite)
9.Video output 4: (9004) DVI-I (VGA, DVI, YPbPr )
10.Audio input 1: Phoenix, stereo (main audio)
11.Audio input 2: Phoenix, stereo (VCR audio, assoc with video input 3)
12.Audio input 3: (9004) Phoenix, stereo (PC audio, associated with video input 4)
13.Audio output 1: Phoenix, stereo (main audio)
14.Audio output 2: Phoenix, stereo (VCR audio)
15.RS-232 ports for control (Dual ports on 9004 / Single port on 9001 & 9002)
16.Connectors for HDX Microphone Arrays (up to 4 microphones total)
17.IR receiver
18.POTS phone connection
19.H.320 network interface bay
20.LAN/NIC, 10/100/1000 auto sensing
21.EIA electrical input
22.USB port (inactive)
23.1394 Firewire (inactive)
24.PCMCIA slot (inactive)