Audio Sound Recording Equipment
DAT Tape Recorder Panasonic Professional Digital Audio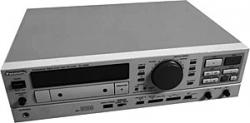 Description:
Based on the popular SV-3700, the SV-3800 incorporates technological refinements for enhanced sound quality and functionality.
It features new 20-bit resolution DACs, together with the same type of 1-bit, 64 times oversampling A-D converter employed in the SV-3700.
The result is wider dynamic range, lower noise, and greater linearity. In audible terms this means natural sound, true to the original, with minimum colouration.
And of course, the SV-3800 incorporates the highest quality, high tolerance components, resulting in low noise and exceptional reliability for which Panasonic is famous.
Features:
Type: digital audio tape deck
Track System: 2-channel stereo
Tape Speed: 8.15, 12.225 mm/s
Recording Time: 120 minutes
Heads: 2000rpm, rotary
D/A Converter: 1 bit
A/D Converter: Sigma Delta bitstream, 1-bit, 64 times oversampling
Sampling Frequency: 48, 44.1, 32kHz
Frequency Response: 10Hz to 22kHz
Signal to Noise Ratio: 92dB
Dynamic Range: 92dB
Total Harmonic Distortion: 0.003%
Digital Inputs: AES/EBU, coaxial, optical
Digital Outputs: AES/EBU, coaxial, optical
Dimensions: 430 x 122 x 315mm
Weight: 5.9kg
Accessories: remote control