Video Recorders, Players and Editors
Vintage - JVC Hifi Dolby System Editing Recorder BR-S8811U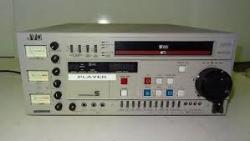 Description:
Please note that this description and Picture is of slightly different Model from JVC Archives.
JVC's new BR-S6l0U recorder has been designed to answer the growing need for a full fledged professional editing system. With fundamental performance capabilities designed to meet the highest professional standards and a TBC connection for systems flexibility, the BR-S610U is capable of withstanding the toughest operating conditions, whether it's used as a feeder or a stand-alone recorder. It's also the perfect partner for the BR-S810U editing recorder. As the two share the same sophisticated S-VHS technology, they naturally complement each other in an S-VHS editing system. A durable, high-performance S-VHS recorder, the full-featured BR- S610U is bound to generate even greater popularity for S-VHS as a professional video format.
HIGH QUALITY VIDEO RECORDING AND PLAYBACK Conforms with the S-VHS format which delivers a picture with well over 400 lines of horizontal resolution. To ensure the highest possible basic performance and the best possible overall picture quality, the BR-S610U incorporates newly-designed video process circuits.
FULLY EQUIPPED AS A SOURCE FEEDER OR STAND-ALONE RECORDER The last and accurate location of edit points so essential for a feeder is made possible by a jog control as well as the variable-speed dial search (from still to 10 times normal speed), And, as a stand-alone recorder, the BR-S610U offers a variety of tape-handling functions, including a preroll mechanism for professional-quality assemble edits and an audio dubbing circuit for post-production flexibility,
SYSTEMS FLEXIBILITY A 45-pin parallel remote control connector permits connection of the BR-S610U to the RM-86 Editing Controller to form a complete editing suite. This 45-pin compatibility means that the BR-S610U can be used with a wide choice of editing recorders such as JVC's BR-8600U VHS editor, BR-S810U S-VHS editor, and CR-850/CR8250 U-VCR editors.
SEPARATE Y/C INPUT/OUTPUT CONNECTORS ln addition to composite video signal inputs and outputs, the BR-S610U is equipped with inputs and outputs for the separate luminance (Y) and chroma (C) signals. The result is clearer color pictures with minimized color noise. To suppress deterioration of color signals while dubbing and so improve the overall quality of color dubs, the Y/C 629 mode is also available.
OTHER FEATURES
* Hi-Fi audio output and Hi-Fi/normal switchable audio output connectors * Audio dubbing facility * Dolby* noise reduction system * Heavy-duty mechanism with aluminum diecast chassis * Microprocessor-controlled diagnostic warning system for detection and indication of electronic and mechanical dysfunctions * Manual audio/video level control * Newly developed auto-cleaning mechanism * Concentrated indicators for recorder status settings * Front panel test points to facilitate alignment * Half-loading mechanism to enable reading of CTL pulses in FF and REW modes * External sync and RF output (for DOC) connectors * Self-illuminated function buttons * Automatic repeat playback and counter search function * 19-inch EIA rack mounting possible * Selectable audio monitor output (AUD-1 / AUD-2 / MIX) * Digital time counter