Sound Mixing, Amplification and Processing
RACK W Mackie M-1400i Amplifier, Feedback Destroyer and Furman Power Conditioner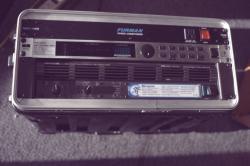 Description:
A small Audio processing rack consisting of Mackie M-1400i 1400 watt amplifier, Beranger Feedback Destroyer-Pro, Furman Merit Series Power Conditioner model M8
The M?1400 and M?1400i are the best amplifier values on the planet. Road-rugged, award-winning* and regularly abused by tens of thousands of satisfied customers.
The M?1400 and M?1400i share most of their features with the other FR Series amps. Check out the features below or view our comparison chart.
1400 watts @ 4 ohms bridged
1000 watts @ 8 ohms bridged
700 + 700 watts @ 2 ohms stereo
500 + 500 watts @ 4 ohms stereo
300 + 300 watts @ 8 ohms stereo
Ultra-low-noise/ low-distortion design
Fast Recovery circuitry reduces distortion at the edge of clipping and beyond
Two 2nd order, 12dB/octave, Bessel low-cut filters with variable frequency from Off to 170Hz help optimize bass output of your sound system
3rd order, 18dB/octave, Bessel electronic subwoofer crossover with two selectable frequency points
Constant directivity horn EQ/Air EQ with variable frequency from 2k to 6kHz and on/off switch
Limiter with On/Off switch (decreases distortion that may become present when the M?1400/1400i is driven at max levels without affecting overall sound levels)
XLR thru outputs
1/4" jacks (M?1400i) or Speakon(R) connectors (M?1400) and 5-way binding post outputs (both models)
Detented gain controls calibrated in dB & volts
Signal present and OL LEDs
Channel Status LEDs
Easily handles 2-ohm loads all night long
Superior T
FEEDBACK DESTROYER PRO DSP1124P
24-Bit Dual Engine Digital Feedback Suppressor / Parametric EQ
?Ultra-high performance 2-channel digital feedback supessor / parametric EQ
?Automatically and ?intelligently? locates and destroys up to 12 frequencies per channel
??Set-and-forget? default setting enables immediate and super-easy performance
?2 x 12 fully programmable parametric filters that can be set manually or via MIDI
?Auto mode continuously monitors the mix, resetting programmed filters automatically
?Single-shot mode automatically detects and destroys feedback and locks the filter until you reset it manually
-Design cooling