Prosumer/Consumer Video Cameras
Hoyt Technologies HCR-100 Helmet Video Camera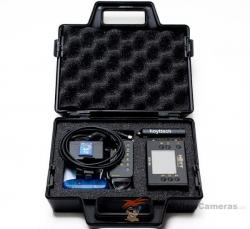 Description:
1. CCD image sensor. HCR-100 works great on cloudy days when you're
under the tree canopy or late / early in the day.
2. Lens interchangeability. HCR-100X system is the only one that uses standard M12
lenses so you can swap wide and narrow lenses or any other specialty lens.
3. Size/Weight. Camera Head and DVR (recorder unit) are very small and light and the connecting cable is very compliant (flexible).
4. Memory Card Capacity: HCR-100 currently supports 4GB SD cards. An optional Firmware upgrade (Version 1.20.06HF) can be installed to allow support for 8GB SD/SDHC cards. To upgrade to the latest version, download and unzip the file and follow the included instructions.
Features:
The new HCR-100 is the latest in digital helmet cam technology. The HCR-100 is a complete, rugged and compact, high-resolution camera and recorder system. The 1/3" CCD image sensor provides 500 TV lines of crisp color and a sharp picture in all lighting situations.
The HCR-100 recorder is a high-quality high-resolution (640x480) recorder but the resolution is only one of the factors that determine how your video will look. The frame rate and the compression type are just as important. A typical helmet cam video is a fast-motion video in which each frame is very different from the one before it and the one after it. When the video is compressed, you get compression artifacts or "pixelation". Our Advanced recording algorithm was designed specifically for fast-motion videos and results in a better picture with fewer compression artifacts. Unlike some inferior recorders, the HCR-100 records at a high bitrate of 5-6Mbs @ 30 FPS in High-resolution mode.
With the HCR-100 there's no need for bulky recorders, battery packs and no mess of tangled wires. The compact recording unit connects to the camera head via a single water-tight, detachable cable. The HCR-100 was designed from the ground up to be used in the harshest military, extreme sports, and motorsports environments.
Unlike some competitors, our camera can be used with interchangeable lenses. It comes with a 3.6mm (92 degrees) wide angle lens standard but you can use any optional 2.9mm, 6mm and 8mm (39 degrees) lenses for a wider or "zoomed-in" field of view.
Instantly playback recorded videos and watch them on the built-in 2.5" display or on your TV. Transfer files to your PC via the included USB SD card reader for editing and posting. With the optional analog A/V in cable, you can even record from your TV or VCR.