Sound/Audio Accessories
RODE Deluxe WS6 Windsheild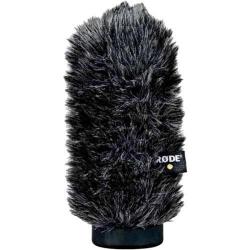 Description:
The Rode WS6 Deluxe Windshield provides excellent noise protection against high wind and adverse weather conditions. The slip-on design of the WS6 features dimensions that accommodate the Rode NTG4, NTG4+, NTG2 and NTG1 microphones; as well as any shotgun or stereo mic with a length of 6.25" (160.5mm) and diameter of 0.88" (22.5mm).
The R?DE WS6 Deluxe Windshield is an easy to use high-performance windshield for shotgun microphones. Designed to reduce wind noise when recording in adverse environmental conditions, the WS6 combines an open-cell foam surround with an outer layer of acoustically transparent artificial fur. A rubber base prevents any wind noise from entering the rear of the microphone pickup area. Suitable for the R?DE NTG1, NTG2, NTG4 and NTG4+ as well as any shotgun microphone with a maximum slot length of 160.5mm (6 1/4") and a diameter of 21-22.5mm.
Features:
Dimensions Maximum Microphone Length: 6.25" (160.5mm)
Maximum Microphone Diameter: 0.82 to 0.88" (21 to 22.5mm)
Weight 50g (1.76 oz)
Packaging Info
Package Weight 0.3 lb
Box Dimensions (LxWxH) 11.7 x 5.6 x 3.2"